Why can't jets fly in volcanic ash clouds?
(Read article summary)
Dozens of airports around Europe have been closed and flights canceled because of the volcanic ash spewed from Iceland. Cars and buses are driving around Europe, so why can't jets fly through volcanic ash clouds?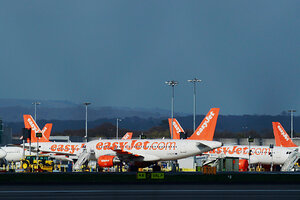 Luke MacGregor/REUTERS
Commercial jets fly through clouds all the time. Why can't they fly in volcanic ash clouds?
The short answer is that volcanic ash is made up of tiny pieces of glass that can shut down a jet engine.
A jet engine sucks in huge amounts of air that mixes with the fuel, ignites, and releases energy.
When these bits of volcanic glass get drawn into a gas turbine jet engine, they melt and fuse to parts of the engine. The melting point of volcanic ash is about 1,100 Celsius. But a jet engine operates at temperatures about 300 degrees hotter. The bits of glass tend to melt onto the fuel nozzles and turbine blades, rather than simply passing through the engine.
The result: the jet engine (or engines) may quit.
The volcanic ash tends to be concentrated at the high altitudes where commercial airliners fly. But near the ground, it's dispersed, and doesn't have the same effect on cars, trains, or ship engines.
Boeing, one of the world's largest manufacturers of commercial aircraft, says there have been about 90 incidents of aircraft being damaged by volcanic ash over the past three decades. One of the worst was the case of British Airways Flight 9 from London to Auckland, New Zealand. On June 24, 1982, the Boeing 747-200 flew through volcanic ash spewing from Mount Galunggung in Indonesia. All four jet engines quit within one minute. The plane dropped from 36,000 feet to 13,000 feet before the crew was able to restart each of the engines.
---