North Korea seizes South-owned resort as warship tensions grow
(Read article summary)
North Korea has seized five hotels owned by South Korea in a jointly operated resort. The move comes as the South weighs its response to the Cheonan warship sinking.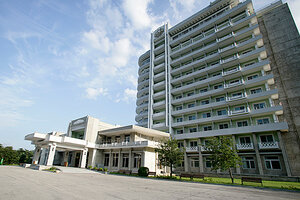 Hyundai Asan/Reuters/File
Tensions between North and South Korea escalated further on Friday, as the North confiscated five South Korean-owned hotels in a jointly operated mountain resort area. Pyongyang officials also warned that the two nations are on the brink of war after a South Korean ship mysteriously sank last month.
The seizure of the hotels represents a highly symbolic statement against pursuing peace, as the hotels were located in North Korea's Mount Kumgang. The resort area had been established so families separated by the 1950-53 war could visit one another. China's Xinhua news agency called the tours a "longstanding but fragile symbol of peace on the Korean Peninsula."
Officials in the communist nation accused South Korean President Lee Myung-bak of seeking out "confrontation" with it and added that cross border tours would be permanently stopped.
South Korea had suspended activity at the resort after a tourist was allegedly shot by North Korean soldiers in 2008, reports The New York Times. North Korean officials said their government was now taking control of the resorts as compensation for the resultant loss of revenues.
---