China's Shanghai Expo 2010 – by the numbers
(Read article summary)
China calls the Shanghai World Expo its 'Economic Olympics.' It is expected to attract 70 million visitors and cost $55 million. And yes, China has the biggest pavilion.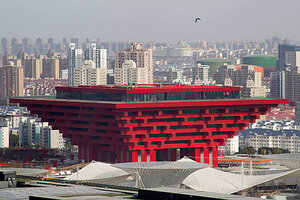 Reuters
With its Shanghai World Expo opening Friday, China is unveiling its second mega-global gathering in two years – as well as another set of world record-breaking figures.
Here's a by-the-numbers look at what China is calling its "Economic Olympics."
China beckons
Expected visitors: 70 million
Population of Shanghai: 20 million
Countries participating: 191
Countries in the world: 191-195, depending how you count
Total groups participating: 246
Height of Chinese pavilion: 207 feet
Height of the next tallest pavilion: 69 feet
On eve of Shanghai Expo 2010, China finds 'soft power' an elusive goal
IN PICTURES: Shanghai World Expo 2010
Breaking new ground
Size of Expo grounds: 5.3 square kilometers (2 square miles)
Times the previous Expo, held in Spain in 2008, could fit into the Shanghai Expo grounds: 20
Soccer fields that could fit inside the expo grounds: 1,000
Households bulldozed to make way for the site: 18,000
Days the Expo will last: 184
Live shows planned: 20,000
Length of fireworks show at opening ceremony Friday: 30 minutes
Investment: priceless
Estimated cost (in media reports): $55 billion
Estimated cost of Beijing Olympics: $40 billion
Official estimated cost of Expo: $4.2 billion
Official amount spent on upgrading Shanghai's infrastructure: $45 billion
Percentage of visitors expected to come from within China: 95
Cost of one ticket: 160 yuan ($24)
Average disposable income per month in China: 1,430 yuan ($210)
---
Follow Stories Like This
Get the Monitor stories you care about delivered to your inbox.