Belgium veil ban passes with widespread support
(Read article summary)
Legislators in Belgium's lower house voted almost unanimously today to ban Muslim women from wearing veils that cover their entire face. Muslims and human rights groups say the veil ban is an attack on religious freedom.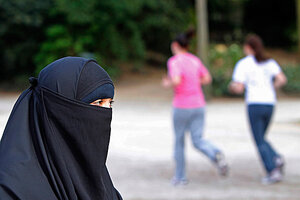 Yves Herman/Reuters
Legislators in Belgium voted almost unanimously to ban full face coverings for Muslim women on Thursday. While women will still be allowed to wear the hijab, which only covers their hair, in public places the veil ban will forbid them from wearing any veil or scarf that covers their face and stops them from being identified.
The move comes at a time when tensions between Muslims and non-Muslim Europeans are reaching unprecedented highs. A number of other European countries are considering similar bans and prohibitions against the Muslim community that are being widely decried by members of the Islamic community and human rights groups.
In the lower house, all politicians voted in favor of the ban except for two who abstained. Now the bill must pass before the senate for final approval where it is expected to pass without any serious challenges.
COVER STORY: Behind the veil: Why Islam's most visible symbol is spreading
IN PICTURES: Behind the veil
---