Iran's Mahmoud Ahmadinejad, in his own contradictory words
(Read article summary)
Iran's President Mahmoud Ahmadinejad continues to deliver inflammatory speeches that leave listeners wondering what he really means. Here are seven examples of his contradictory remarks.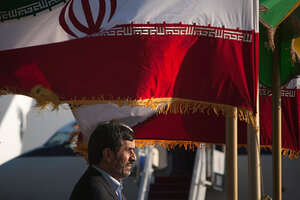 Morteza Nikoubazl/REUTERS
Iran's president knows how to deliver a headline-grabber.
But like a lot of politicians, Mahmoud Ahmadinejad also tends to contradict himself (sometimes within the same speech), often leaving the audience to decide for themselves where he stands on an issue.
Addressing the Nuclear Non-Proliferation meeting at the UN headquarters in New York City this week, President Ahmadinejad said nuclear weapons are "a fire against humanity." But is Iran building the capability to make one of those fires? That's what the International Atomic Energy Agency (IAEA) says it can't rule out without full cooperation from Iran.
Iran has a history of making "confusing, contradictory, and inaccurate statements," US Secretary of State Hillary Clinton herself told reporters Monday.
At an October 26, 2005, conference in Tehran entitled "The World without Zionism," he offered remarks that both denied and supported the reality of the Holocaust.
---