Secret China visit: All aboard Kim Jong-il's luxury train
(Read article summary)
We're not supposed to know that Kim Jong-il owns six luxury trains, or that he rode one to Beijing this week and visited the Great Wall of China today. It's a secret.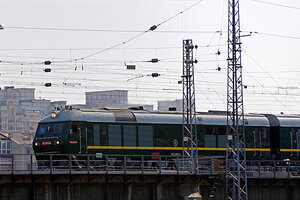 Petar Kujundzic/Reuters
Who is so fearful of flying, and rich, that he owns six luxury trains?
It's impoverished North Korea's "Dear Leader" Kim Jong-il, of course, whose other idiosyncrasies include spiking his hair, wearing tinted sunglasses, and living in relative luxury while many of his own citizens go without adequate food.
"The way of thinking about Kim Jong-il is he's like an emperor," says Scott A. Snyder, adjunct senior fellow for Korea Studies at the Council on Foreign Relations. "He's the master and everybody else is a servant."
He was in Beijing on Wednesday for top-secret talks after riding one his fancy trains to China over the weekend. He is believed to have visited the Great Wall today.
(Shhhh. We're not supposed to know.)
Luxury travel
It's apparent that Kim enjoys traveling in style. His armored train is decked out with: conference rooms, an audience chamber, bedrooms, satellite phone connections, and flat screen TVs. Some 20 train stations in North Korea were built specifically for his six trains, which all together have about 90 carriages, according to a November report in South Korean newspaper The Chosun Ilbo.
---