Volcanic ash cloud: Where is it now?
(Read article summary)
The volcanic ash cloud from Iceland is now drifting over Africa as well as Europe, closing airports and causing cancellations of transatlantic flights to the United States.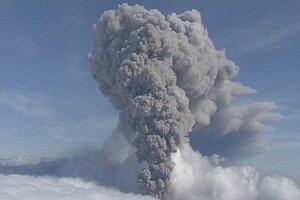 APTN/AP
After several weeks of relief, the volcanic ash cloud from Iceland has returned to European airspace, disrupting hundreds of flights. Now it's affecting Africa, too.
While Eyjafjallajokull (pronounced ay-yah-FYAH-lah-yer-kuhl) has never stopped spewing ash since its initial April 14 eruption caused a week-long suspension of air traffic in Europe, the resulting cloud had contained itself over the Atlantic Ocean and flights had returned to near normal until the weekend.
After a weekend of flight cancellations throughout Europe and North Africa, airports reopened Monday in Austria, Italy, Germany, Ireland, and Scotland. In Spain, 19 airports were closed over the weekend, and all but five reopened by Tuesday.
---
Follow Stories Like This
Get the Monitor stories you care about delivered to your inbox.