Cameron-Obama: A UK-US special relationship forged in syllables?
(Read article summary)
Ever since Winston Churchill coined the phrase 'special relationship' in 1945, the number of syllables in US presidents' and British premiers' names have often matched. Was David Cameron destined to become a three-syllable premier alongside Barack Obama?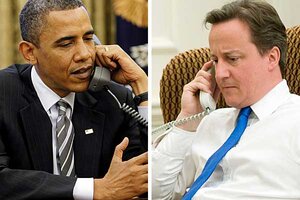 (l.-r.) Charles Dharapak/AP, Andrew Parsons/Conservative Party/AP
Reagan-Thatcher.
Bush-Blair.
And now Obama-Cameron.
Whether or not the US president and newly elected UK premier will forge a "special relationship" as have past transatlantic leaders, Barack Obama and David Cameron already have one thing going for them: syllabic harmony.
Bush-Blair was a mono-syllable partnership; Thatcher-Reagan was a two-syllable collaboration; and Obama-Cameron is now the three-syllable match.
Nomenclature numerology?
Syllables as destiny?
Ever since Winston Churchill coined the phrase "special relationship" in 1945, a coincidence of surname syllables has occurred.
During 42 of the past 65 years – or some 65 percent of the time – both the US and UK had a leader with the same number of syllables in their last name.
But during the first 156 years of UK premiers and US presidents (starting with George Washington's first term in 1789), when a much higher percentage of American names actually had Anglo-Saxon roots, presidents' and premiers' syllables only coincided over 54 years, or about 35 percent. Leadership years overlap (for example, we've classified 2010 as a Cameron year, even though Brown held office the first four months), creating small a margin of error.
And when comparing the US with its Cold War enemy, Russia, over the past 65 years, syllables have coincided only 25 years, or about 38 percent of the time.
Transatlantic harmonic convergence
---