Volcanic ash cloud: Where is it now – May 20?
(Read article summary)
All European flights continued uninterrupted Thursday as favorable winds pushed the volcanic ash cloud from Iceland clear of the mainland.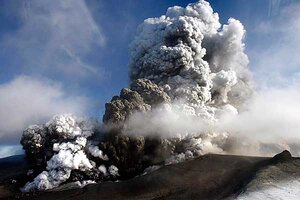 Brynjar Gauti/AP
European air travel continued to operate without disruptions Thursday as the volcanic ash cloud from Iceland steered clear of the mainland, though more somber news came from the announcement that the volcano caused a 20 percent drop in British air travel alone in April.
Although the volcanic eruption shows no signs of ending, May looks to be much better for airlines and their passengers, with Thursday seeing the third day in a row this week of normal operation.
"Situation today in European airspace: no impact on traffic except in parts of Iceland," European flight monitor Eurocontrol announced on its Twitter page.
Eurocontrol spokeswoman Mireille Roman confirmed by telephone Thursday that all flight operations were normal.
The latest ash cloud map from the British Meteorological Office, the national weather service, shows a thick plume of ash spewing from Eyjafjallajökull volcano and drifting northeast for several hundred miles into the Norwegian Sea. The ash cloud reaches around and touches the tip of northern Russia.
---