Jordan Romero, 13, summits Everest: How young is too young?
(Read article summary)
Jordan Romero became the youngest to ever scale Everest, the world's tallest mountain Saturday. Teens around the world are setting new adventure records - and prompting questions about risk and maturity.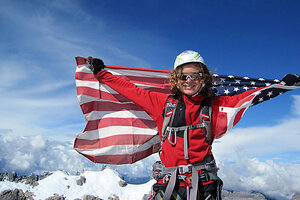 Courtesy of Romero family/AP/File
Thirteen-year-old Jordan Romero is now the youngest climber to reach the top of the world, Mount Everest.
On Saturday, Jordan reached the summit with his dad, a paramedic, his dad's girlfriend, and three Nepalese sherpas. The young Californian has now climbed the tallest mountains on six of the world's seven continents. He summited Mount Kilimanjaro in Tanzania at age 9.
When he got to the top of Everest, Romero called his mom.
"He says, 'Mom, I'm calling you from the top of the world,'" a giddy Leigh Anne Drake told The Associated Press from California, where she had been watching her son's progress minute by minute on his blog, which showed his ascent on map that displayed a GPS tracker
Jordan's feat is sure to fuel a debate about teenagers pushing the limits of achievement.
The Nepalese government would not give the family permission to climb Everest from Nepal, citing Jordan's age. To make the ascent, Jordan's team went from the Chinese side, a more difficult approach, but where there is no age restriction.
The issue of age arose on May 16, too, when Australian Jessica Watson, at 16, became the youngest person to sail around the world solo, non-stop and unassisted. She spent seven months at sea alone.
---