How a native American tribe got their salmon back, by way of New Zealand
(Read article summary)
Fifty years ago, a dam took salmon away from the native American tribe Winnemem Wintu. With a little help from New Zealand, the tribe is finally reintroducing salmon to northern California's McCloud River.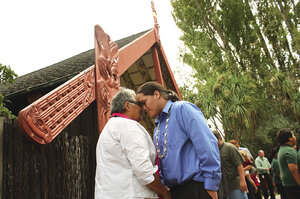 Marc Dadigan
Christchurch, New Zealand
• A local, slice-of-life story from a Monitor correspondent.
The eel was there, just as the Maori said it would be. About two feet long and colored a misty sapphire, the longfin eel billowed in place beneath the glassy waters as the Winnemem Wintu watched in rapt silence.
With the foothills of New Zealand's Southern Alps looming in the distance, about two dozen members of the northern California tribe had lined the banks to peer into the shallow creek. Many aimed video or still cameras down at the South Island waterway, a traditional spawning ground for the country's modest chinook salmon fishery. The small tribe had traveled across the Pacific to commune with their sacred salmon, which they hadn't seen in more than 60 years.
But there to greet them instead was an eel, the sacred fish of their native Maori hosts. Some said its presence was a good omen, a messenger sent as a welcome by a Taniwha, a guardian spirit of the water.
Soon, the first salmon appeared, spectral blurs of gray floating past. Spiritual leader Caleen Sisk-Franco clapped her hands, her eyes welling with tears.
"They're so small!" she said with motherly concern. "When we take them home, they'll get bigger."
---