Don't ask, don't tell: How do other countries treat gay soldiers?
(Read article summary)
Don't ask, don't tell doesn't fly with NATO members, except Turkey and the US. NATO nations now allow gays and lesbians to serve openly in the military. But 53 nations, including North Korea, Iran, Pakistan, and Syria, ban homosexuals from military service.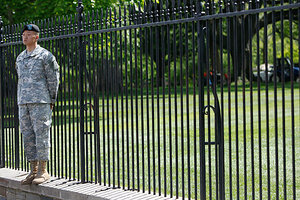 Pablo Martinez Monsivais/AP
The US Congress appears poised to repeal the "don't ask, don't tell" ban on gays and lesbians serving openly in the military. That would take the US off the same list as Iran and North Korea, countries that also bar homosexuals from fighting for their country.
"Is that where we as a country want to be? I think not," says Aubrey Sarvis, executive director of the Servicemembers Legal Defense Network, which is lobbying for a repeal to the "don't ask, don't tell" (DADT) ban.
More than 25 countries specifically allow gays and lesbians to serve in the military, including all original NATO signatories except the US and Turkey.
Some 16 countries – including Pakistan, Syria, Venezuela, and Yemen – bar open homosexuals from serving in the military. Across Africa, 37 countries declare homosexuality outright illegal – inside the military or out. Last week, two civilian men in Malawi were convicted and sentenced to serve 14 years in prison for homosexuality.
---