Top 10 military spending nations; oil countries post biggest jumps this decade
(Read article summary)
Despite a global recession, worldwide military spending increased in 2009 by its fastest pace since 2003, according to a new report by the Stockholm International Peace Research Institute. Chad boosted spending by 663 percent. The US still has the biggest defense budget.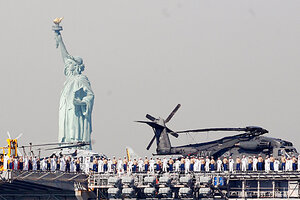 Peter Morgan/AP
Worldwide military spending jumped 5.9 percent in 2009 to $1.5 trillion, according to a new report that underscores the long-term decision of many countries to prioritize defense. This is despite a recession that shrunk the global economy 2.2 percent.
The US remains by far the biggest military spender, followed by China, the Stockholm International Peace Research Institute (SIPRI) said in its annual report on worldwide military expenditures, released June 2. Last year saw the steepest jump in worldwide military spending since the start of the Iraq War in 2003.
See the full list: IN PICTURES: World's Top 10 Military Spenders
But, as the world's military spending increased nearly 50 percent over the past decade, the biggest military budget increases were seen in small, oil-rich countries flooded with new wealth.
From 2000 to 2009, Chad increased its military budget 663 percent, Azerbaijan increased 471 percent, and Kazakhstan increased 360 percent.
"It creates potential dangers," Sam Perlo-Freeman, one of the report's authors and the head of SIPRI's military expenditure project, said in a telephone interview from Stokholm Thursday. "Although there is nothing inevitable about arms races leading to war, it can potentially be a warning sign."
Turning oil into arms
---