NBA finals: Where in the world will the next Pau Gasol come from?
(Read article summary)
Looking beyond the current Lakers-Celtics NBA finals, basketball scouts are hunting for the next Pau Gasol. With the NBA's recent push into developing countries, many expect a star to rise from Africa, India, or China.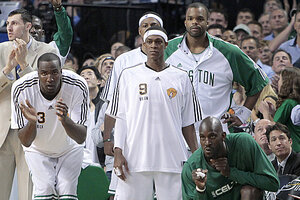 Michael Dwyer
Pau Gasol's pivotal role in the Lakers-Celtics NBA finals epitomizes the shift that has occurred in the NBA's supply-chain for international basketball players over the past several decades.
Mr. Gasol, a Spaniard drafted in 2001, comes from Western Europe – the source of many of today's best international basketball players.
Fellow top players Dirk Nowitzki (drafted in 1998) and Tony Parker (drafted in 2001) come from Germany and France, respectively. All three are among the few non-Americans with repeated appearances on the NBA All Star Team in the past decade.
Sasha Vujacic, the Los Angeles Lakers' shooting point guard, is from Slovenia, but started his professional basketball career at age 16 in Italy. And teammate Didier Ilunga-Mbenga was born in Congo, but fled at an early age to Belgium.
---