As Champagne is to France, Kampot pepper is to Cambodia
(Read article summary)
The Cambodian government recently approved 'geographical indication' status for Kampot ground pepper, which Parisian chefs have called the best in the world.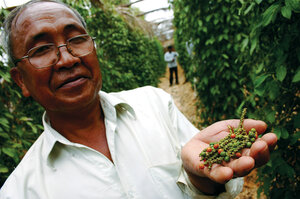 Jared Ferrie
• A local, slice-of-life story from a Monitor correspondent.
After he grew tired of fighting on the government side of Cambodia's civil war and left the Army in 1993, Ngnoun Lay knew exactly what he wanted to do.
"When I stopped being a soldier I went to grow pepper like my ancestors," says the president of the Kampot Pepper Farmers' Association, standing among ripening plants that tower over him on wooden poles.
Pepper has been cultivated in this region since at least the 13th century. But the spice's heyday came much later, under French rule. Parisian chefs considered it the best in the world for its uniquely strong yet delicate aroma and its slightly sweet, eucalyptus taste. At the turn of the 20th century, Cambodia was exporting around 17.6 million lbs. a year, according to FarmLink, a company working with farmers to create a niche gourmet market in Europe.
Under the Khmer Rouge regime (1975-79), the industry was completely destroyed and has yet to regain anything close to its former glory.
But farmers in Kampot recently got a boost when the Cambodian government approved geographical indication status for their product. (GI provides a guarantee of quality standards and assurance that a product comes from a particular region.)
---