Afghanistan's threat to censor Facebook? Hasn't happened yet.
(Read article summary)
In Afghanistan the Internet is working normally. Even access to pornographic websites is possible – which means the Internet here is more free than in many countries.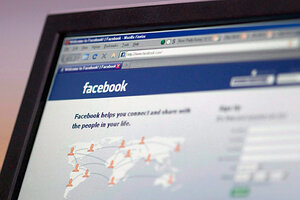 Adrian Wyld/The Canadian Press/AP/File
In late June, an alarm went up on free speech and tech geek forums:
Afghanistan was imposing a ban on social networking sites like Facebook and Twitter.
"Yet another country has decided to shut down key parts of the internet," wrote the Electronic Frontier Foundation in a post on the matter.
That Afghanistan might take this step isn't entirely implausible.
Neighboring Pakistan has at times shut down access to Facebook and other sites deemed to have "un-Islamic" content, and a growing number of countries have been extending censorship of the Internet, from Turkey to China.
Afghanistan's Constitution says no law can violate the tenets and beliefs of Islam. And the country has had a lightly enforced regulation banning pornography and gambling websites here for the better part of a year.
But in this instance, Afghan Internet service provider executives say Facebook and its ilk are safe, and that no regulation banning the sites has been passed. "Social networking is not prohibited," wrote Aziz Popal, an executive at Ariana Network Service, an Afghan Internet service provider, in an e-mail. "I had full attendance at all meetings about Web filtering."
An e-mail from his company to customers, however, is probably what started the rumor. On June 24, the company e-mailed at least some customers saying that "per instructions by the Afghan Ministry of Communications, all Internet service providers are hereby mandated to begin" filtering out websites related to alcohol, dating, social networking, gambling, and pornography.
Mr. Popal indicated that was an error on the part of his company.
---