Farnborough International Air Show: Supersonic car, anti-aircraft laser debut
(Read article summary)
The supersonic car 'Bloodhound' was unveiled Monday at the Farnborough International Air Show in Britain. Up in the air, the forthcoming Boeing Dreamliner 787 and the Airbus A400M grabbed eyes.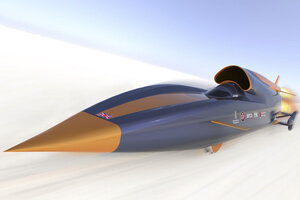 Curventa/Reuters
A supersonic car dubbed the "Bloodhound" that aims to exceed 1,000 mph was unveiled today at the Farnborough International Air Show in Britain.
The life-size replica is the first-ever public showing and gives a glimpse of the real 42-foot-long jet-engine-powered car expected to be tested next year, says Matthew Knowles of the ADS Group, parent company of the Farnborough International Air Show. "It's the first time it's been unveiled," he says.
Bloodhound project director Richard Noble and test driver Andy Green are the same men behind the ThrustSSC, which set the current record speed for a land vehicle at 763 mph in 1997, making it the first car to officially break the sound barrier. (See video below of the vehicle cruising over the desert.)
READ: Supersonic car inspires students to study math and science
The sleek, rocket-shaped car was not to be outdone, however, by appearances of the new Boeing 787 Dreamliner and the Airbus A400M, whose sales are expected to help the aviation industry recover from two years of financial losses.
---