Saudi Arabia to enact first BlackBerry ban on Friday
(Read article summary)
With several other countries threatening a BlackBerry ban, the smartphone's parent company stands to lose 2 million of its 46 million users worldwide.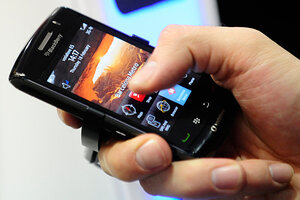 Manu Fernandez/AP/File
On Friday, Saudi Arabia will become the first foreign government to enact a BlackBerry ban when it shuts down the phone's instant messaging service.
Government officials in the United Arab Emirates (UAE) say they will shut off BlackBerry e-mail, messaging, and web browsing features on Oct. 11 if the government is not granted more access. Perhaps the greatest concern for the cellphone maker is that India, which constitutes one of the largest emerging markets and has 1 million BlackBerry users, is threatening to stop BlackBerry services as well.
Research in Motion (RIM), the Canada-based maker of the BlackBerry, stands to lose nearly 2 million of its 46 million worldwide customers if the standoff continues over giving foreign governments the ability to monitor communications on the highly encrypted smart phones.
Even with almost 5 percent of its business on the line, however, RIM is unlikely to back off, says Theodore Karasik, director of research and development at Dubai's Institute for Near East and Gulf Military Analysis.
---