China's economic status is good news for the country ... right?
(Read article summary)
China is playing down its new economic status now that it has overtaken Japan as the 2nd largest economy in the world, saying it is still a developing country.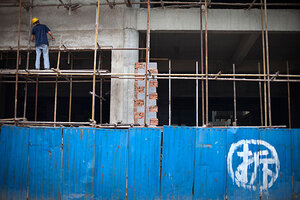 Alexander F. Yuan/AP
What, me wealthy? Far from showing pride in figures released Monday that suggest China has overtaken Japan to become the second largest economy in the world, Beijing officialdom is doing everything in its power to play down the news.
"One is struck by the lack of self-congratulation in the [Communist] party media," says Russell Leigh Moses, a political analyst here. "I admire the government's retreat from hubris and its embrace of humility, and I don't get any sense it is manufactured."
"China is a developing country," Commerce Ministry spokesman Yao Jian stressed Tuesday, anxious to point out that China's economy may be massive, but so is its population, and that most of them are poor.
Chinese officials are quick to argue that the simple volume of the country's gross domestic product (GDP) is less important than the approximate value of goods produced per person, known as per capita GDP. Measured that way, according to the World Bank, China ranks 124th in the world, between Tunisia and Angola.
---