Israeli soldier's Facebook photos: Who's right, the IDF or Abergil?
(Read article summary)
Former Israeli soldier Eden Abergil's Facebook photos of blindfolded Palestinian detainees are similar to many that soldiers from multiple units showed me while I covered the Iraq war. Dark humor helps young soldiers get by.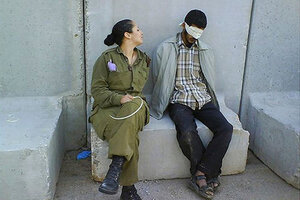 sachim.tumblr.com/AP
Former Israeli soldier Eden Abergil touched off a storm of criticism in the Middle East this week after she posted Facebook photos of her mugging in front of bound and blindfolded Palestinian detainees.
An Israeli Defense Forces (IDF) spokesman described the photos as "base and crude," but Ms. Abergil and her friends seem to have gotten a kick out of the pictures before she says she took them down, sometime in the past 24 hours. When one of her friends wrote "that looks really sexy" of a picture of her posed in front of two Palestinian prisoners, Abergil responded: "I wonder if he is on Facebook, too – I'll have to tag him in the photo." She has defended herself in the Israeli press, telling Army Radio that the pictures were just "souvenirs."
So who's right here, the IDF spokesman or Abergil? As it happens, they both could be.
---