Jimmy Carter's North Korea trip: quiet, matter-of-fact diplomacy
(Read article summary)
On Jimmy Carter's last run to North Korea 16 years ago, I saw Carter in Seoul before he returned to the US. He spoke quietly, even matter-of-factly to explain he'd won the promise of a freeze of the North's nuclear program.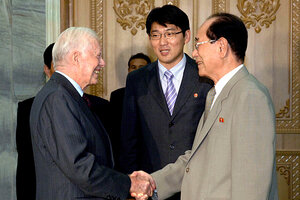 KCNA/Reuters
The first time Jimmy Carter and wife, Rosalynn, went to Pyongyang, they did so by road, entering North Korea at the truce village of Panmunjom in June 1994.
That's the fastest way to Pyongyang, four or five hours from Seoul if traffic ever moved normally, but the crossing at Panmunjom has been closed to normal traffic ever since the Korean War truce was signed in July 1953. Soldiers on either side stare at one another across the line where the shooting stopped.
Mr. Carter's mission then was to defuse "the first nuclear crisis." South Korea's then-president, Kim Young-sam, had told then US President Bill Clinton that he did not want to risk a war in which millions would die. Kim Dae-jung, who had run for president three times and was gearing up for his successful run in 1997, appealed to Carter to intervene.
In a leisurely boat ride on the Daedong River in Pyongyang as the guest of North Korea's "Great Leader" Kim Il-sung, Carter on June 17, 1994, won the promise of a freeze of the North's nuclear program in exchange for twin light-water nuclear reactors.
---