Ferrari 458 Italia recalled, yes, but real news is how many owned in China
(Read article summary)
Of the five Ferrari 458 Italia supercars that combusted worldwide, two caught fire in China, highlighting the number of people in China who will pay $550,000 for a car.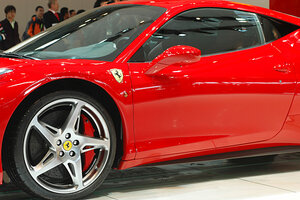 Wei Yao/Chinafotopress/Newscom
You may have missed the news this week that Ferrari has recalled all its 458 Italia supercar because five of them have recently burst into flames.
You are unlikely to have been personally concerned: The Italian company has made only 1,248 of these vehicles, selling them to the likes of Eric Clapton.
What caught my eye about the story was that two of the five flaming Ferraris worldwide caught fire in China.
That's the sort of factoid that gives meaning to the striking statistics one comes across from time to time about Chinese incomes – the ones that say China has 64 billionaires, more than any other country except the United States (according to Forbes' 2010 rich list), or that China's Gini coefficient, measuring income inequality, is 0.47, one of the highest in the world (according to the World Bank.)
Ferrari, whose sleek showroom in downtown Beijing attracts a lot of goggle-eyed passers-by taking pictures through the window on their mobile phones, sold 212 cars in China in 2008 according to company figures. The firm says it hopes to make China one of its top six markets within a few years.
---