Why the planned Koran burning causes outrage and alarm
(Read article summary)
To devout Muslims, the Sept. 11 Koran burning proposed by the Florida preacher Terry Jones is akin to burning the word of God. Muslim leaders and US military and civilian officials have asked Jones to reconsider his plan.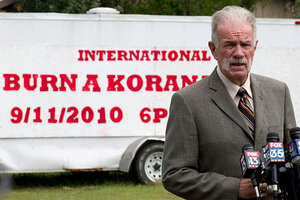 Scott Audette/Reuters
The Rev. Terry Jones, pastor of a small evangelical Christian church in Gainesville, Fla., has a legal right to burn the Koran. But understanding why this act, planned for Sept. 11, is so inflammatory, means understanding the special reverence with which devout Muslims view the Koran.
Muslims see it as the uninterrupted, unchangeable, and eternal word of God. Burning the Koran is akin to directly burning the word of God.
What's more, Reverend Jones's planned burning of the Muslim holy book is set for the day after the end of Ramadan, the month of fasting meant to commemorate the time in 610 when Muslims believe the angel Gabriel – the same Gabriel that appears to Daniel in the Old Testament – first appeared to the prophet Muhammad and began "revealing" the Koran to him.
Historians and linguistic scholars view the Koran as the work of Muhammad and his immediate successors, perhaps inspired by earlier Jewish texts.
Muslims, however, believe that the Koran was delivered to the prophet directly from God, from a book that had existed for all time but had been withheld from man until that point. From their religious view, the book was set down in writing without embellishment or error and has been unchanged from the time of the last revelation to Muhammad in 632.
---