Afghan reporter arrested for talking to the Taliban
(Read article summary)
An Afghan reporter was arrested, apparently because of his contacts with Taliban representatives. For local reporters, covering the war is a minefield.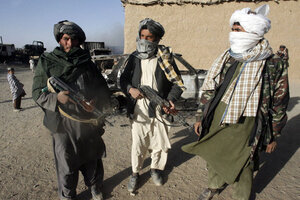 Rahmatullah Naikzad/AP/File
The Associated Press reports that Afghanistan reporter Rahmatullah Naikzad, a freelancer who contributes video to the AP and also works for Al Jazeera's Arab language service, was arrested by a NATO forces in the troubled province of Ghazni yesterday.
The International Security Assistance Force (ISAF), the umbrella for the US-led NATO mission in Afghanistan, provided few details beyond a brief statement that the journalist had been detained because of suspected ties to the Taliban.
The AP reports that Mr. Naikzad, an ethnic Tajik, cultivated ties with Taliban and other militant leaders as part of his job, and that his family strenuously objected to any suggestion he might have been providing assistance to the Taliban. The vast majority of Taliban members are ethnic Pashtuns, and most Tajiks are sworn enemies of the Taliban (Tajik hero and anti-Taliban commander Ahmad Shah Massoud was assassinated by an Al Qaeda agent posing as a journalist two days before the 9/11 attacks on the US).
If recent experience is anything to go by, it could be months or years before the allegations against him are dealt with and he's either cleared and released, or evidence of wrongdoing is forthcoming. Reuters photographer Ibrahim Jassam, for example, was arrested by US and Iraqi forces on allegations he was a "security threat" and detained without charge for 17 months, until he was released this February.
---