Mahmoud Ahmadinejad: A man who favors cheap windbreakers, sensible shoes, and 9/11 conspiracy theories
(Read article summary)
Iranian President Mahmoud Ahmadinejad, who spoke at the UN today, has been called a 'ranting loon.' But the real Ahmadinejad is far more complex.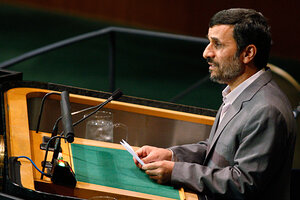 Aaron Jackson/AP
Iranian President Mahmoud Ahmadinejad is a study in contradictions, and when he took the podium at the United Nations General Assembly today, US and other leaders were eagerly watching to see which Ahmadinejad showed up.
In the American mind, he's often viewed as a crazed dictator (the New York Post called him a "ranting loon" during his 2008 UN visit), and he may have added to that image with his comments this afternoon.
In a speech that appealed to common values between Christianity and Islam and that spoke positively of the prophets Jesus and Moses as well as Muhammad, Mr. Ahmadinejad quickly veered into the sort of territory that has infuriated his opponents and at times even left supporters at home scratching their heads in frustration.
AHMADINEJAD: His Top 5 quotes at the UN
This time it wasn't Holocaust denial so much as Ahmadinejad apparently lending credence to theories that the 9/11 attacks on the United States were abetted by the US government. A speech that some had hoped would signal a greater willingness to cooperate with the international community over his country's nuclear program and lead to greater US-Iran dialogue saw the US delegation walk out in protest soon after he started speaking.
---