Brazil election tightens as Dilma Rousseff slips in polls
(Read article summary)
Dilma Rousseff still leads polls for the Brazil election Sunday, but scandals are weighing her down despite backing from popular President Luiz Inácio Lula da Silva.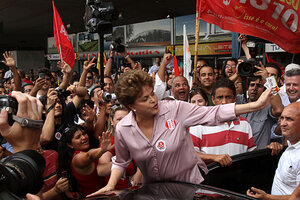 Eraldo Peres/AP
A week ago, Dilma Rousseff looked on course to win an overall majority in Brazil's presidential election Sunday and thus avoid a runoff ballot four weeks later.
That possibility now hangs in the balance as new polls show her momentum slowing.
The candidate from the ruling Workers' Party has 46 percent of voter support, according to a Datafolha poll published Tuesday, a clear 16 points ahead of her center-right rival Jose Serra but 5 percentage points down from two weeks ago and three points below her level seven days ago. A separate Ibope poll released Wednesday showed her static on 50 points, 23 points ahead of Serra. The poll's 2 percent margin of error shows that she could still fall short of a majority.
Referred to here as "Dilma," the leftist guerrilla turned respected administrator is still the odds-on favorite to succeed President Luiz Inácio Lula da Silva, who is constitutionally barred from seeking a third consecutive term. Known widely as "Lula," he has wholeheartedly endorsed Dilma, and both politicians would dearly love a first-round victory and the mandate that implies.
At her final campaign rally in São Paulo on Monday night, both politicians stressed the election was not yet won and appealed to supporters not to flag in the final straight.
---