Jewish life revived in Poland
(Read article summary)
Jewish life in Krakow was vibrant before World War II, but the Holocaust and years of Communist rule wiped it out almost entirely. Today, Krakow is reviving its Jewish heritage.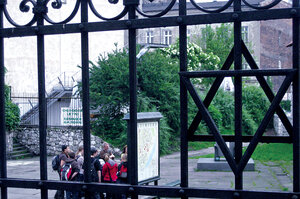 Patti McCracken
• A local, slice-of-life story from a Monitor correspondent.
On a recent saint's day in Krakow, Poland, many apartment windows were adorned with icons of Jesus – makeshift shrines on display. In the same city, on the square of the restored Old Synagogue, a group of tourists pored over a map of Kazimierz, the Jewish quarter.
Kazimierz long ago was a separate Jewish city, a rival of its neighbor Krakow. The cities eventually joined, and Krakow had nearly 65,000 Jewish citizens before the Holocaust. Afterward, the number was 2,000, and it fell during communism.
Today Kazimierz has revived and boasts dozens of Jewish cafes and hotels, millions of Jewish tourists annually, a Jewish community center, a Jewish cultural center, and several yearly Jewish festivals. Yarmulkes fill kiosks in Kazimierz.
Yet, the number of Jews in Krakow hovers around 800, about 200 of whom consider themselves an active part of the Jewish community. Tourists complain that Krakow is a "Jewish Disneyland."
"We may have a small community here, but it's vibrant," says Jonathan Ornstein, director of the Krakow Jewish Community Center. "We have a new generation discovering their Jewish ancestry," he says, referring to the thousands of Jews who cloaked themselves in Roman Catholicism to escape the Nazis. "We don't have the luxury of declaring a place off limits because of its sad history."
---
Follow Stories Like This
Get the Monitor stories you care about delivered to your inbox.