Robert Kaplan: Indian Ocean becomes battleground for India and China
(Read article summary)
'China wants a presence. India is unnerved by all of this,' Robert Kaplan, author of 'Monsoon: The Indian Ocean and the Future of American Power,' told a small gathering in Cambridge.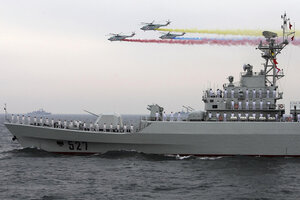 Guang Niu/Pool/Reuters
Let's play connect the dots. After the US midterm elections, President Obama will visit India, Indonesia, South Korea, and Japan. Trace a line between the nations, noting how it loops down through the Indian Ocean and back up through the South China Sea and East China Sea, forming a semicircle around China.
The route underscores the importance of these nations and bodies of water as the United States seeks to check the growing assertiveness of China, says Robert Kaplan, author of newly published "Monsoon: The Indian Ocean and the Future of American Power."
"It's not a war I'm predicting, but what I am alluding toward is a very complex, Metternichian arrangement of power from the Horn of Africa all the way up through the Sea of Japan," Mr. Kaplan told a small crowd Monday at the Harvard Book Store in Cambridge. "We don't have to interfere everywhere, we just have to move closer to our democratic allies in the region so they can do more of the heavy lifting."
---
Follow Stories Like This
Get the Monitor stories you care about delivered to your inbox.