Osama bin Laden threatens French troops, France announces pullout from Afghanistan
(Read article summary)
France denies any connection between its decision to remove troops from Afghanistan in 2011 and Osama bin Laden's pledge to attack French troops.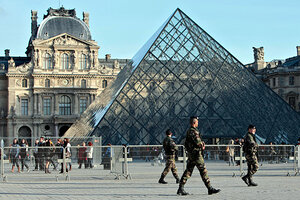 Thibault Camus/AP
France is leaving Afghanistan. Though President Obama has committed to reducing America's footprint in Afghanistan beginning July 2011, the withdrawal of another ally is likely to add an additional layer of challenge to maneuver that reduction. And the timing of the announcement has put France's decision under some scrutiny.
France's announcement came a day after the release of a tape with a message believed to be from Osama Bin Laden, who threatened to attack French citizens because of their presence in Afghanistan and treatment of Muslims. French officials were quick to insist that there is "absolutely no link" between the threat and their decision to begin withdrawing troops in 2011.
"There's a fixed date for NATO in the framework of its new strategy, that's the start of 2011, because in 2011 we're going to transfer a whole series of districts to the Afghans," said France's Defense Minister Herve Morin in an article by Agence France-Presse. "At that moment, there could be the first movements or first withdrawals of Allied forces from Afghanistan. In any case, that's the calendar set by Barack Obama, that in 2011 the first American troops could quit Afghanistan."
---