Ban Ki-moon mum on human rights as he visits China
(Read article summary)
UN Secretary-General Ban Ki-moon, on a four-day visit to China, has not urged the release of Liu Xiaobo, this year's Nobel Peace Prizewinner. Rights groups are highly critical of his general silence on human rights.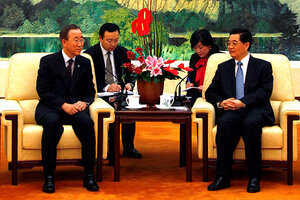 David Gray/AP
Just how much does Ban Ki-moon want to win reelection to a second term as United Nations secretary-general next year?
At least to his critics, it would seem he wants it enough not to breathe a word about human rights in his meeting with Chinese President Hu Jintao on Monday.
As a permanent member of the United Nations Security Council, China could veto Mr. Ban's reelection bid should he make one, which he seems almost certain to do.
Human rights groups have flayed Ban, currently on a four-day trip to China, for his silence here on human rights in general. They are especially disappointed that he has not urged the release of Liu Xiaobo, this year's Nobel Peace Prizewinner, who is currently serving an 11-year sentence for incitement to subversion.
"The common refrain is that confronting human rights abuses in private can be more effective than publicly, but Ban's complete neglect of human rights even in private is appalling," says Sophie Richardson, Asia advocacy director at Human Rights Watch.
Ban did not raise human rights at all in his meeting with Mr. Hu, UN spokesman Martin Nesirky told reporters on Monday. The UN later released a statement saying that Ban had raised the subject "with other Chinese leaders."
---
Follow Stories Like This
Get the Monitor stories you care about delivered to your inbox.