Obama returns to Indonesia, and for some that's all that mattered
(Read article summary)
The majority of Indonesians saw the visit by Obama, who many former classmates and friends there knew as 'Little Barry,' as worthy of celebration.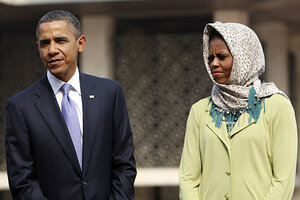 Achmad Ibrahim/AP
The tinkling of a traditional Indonesian gamelan orchestra filled the air as President Obama and around 200 guests sat down to a dinner of his favorite Indonesian dishes – fried rice and meatball soup called bakso. It might sound like a familiar diplomatic dance – meeting and greeting and speechmaking. But with Mr. Obama's ties to Indonesia, the general feel around the local shops and markets in Jakarta was one of mighty anticipation at what might come out of his long-awaited trip.
Many observers say Obama's ties to Indonesia, where he spent four years of his childhood, would usher in a new era of friendship between the two nations. But a decision to cut short his trip due to travel threats posed by an erupting volcano made some doubt the sincerity of the speech he gave Wednesday morning.
"It's good that now people in the US may know where to locate Indonesia on a map," says Noor Huda Ismail, director of the Institute for International Peacebuilding. "But that Indonesia will play a heavy role in the world simply because the US president spent four years here, no way."
Those who saw Obama's visit as a homecoming didn't seem to care. They were more interested in hearing memories of his boyhood and making sure he was surrounded by Indonesian hospitality.
Obama lived in Menteng Dalam, a quaint neighborhood that has changed little since the 1960s, even as high-rises have sprung up around it. Away from the wide streets, glitzy shopping malls, and sparking glass office towers of today, city alleyways are still lined with small outdoor markets and street vendors selling bakso.
---