Iraq halfway toward forming a cabinet – nine months after election
(Read article summary)
More details should emerge later today. But there are indications that forming a new government -- presented as a done deal weeks ago -- still has major hurdles, which points to the country's uncertain future.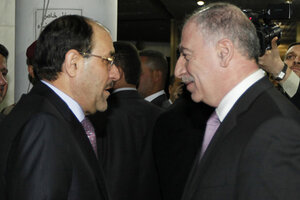 Mohammed Ameen/Reuters
A little news from Iraq this morning, just as a reminder that it's nine and months and counting since the last elections and a government still hasn't been formed. It turns out that the "breakthrough" deal to form a government announced over a month ago isn't yet much of a deal at all. Today, Prime Minister Nouri al--Maliki is going to release a partial cabinet list, according to his spokesman.
What posts won't be announced? The Interior Ministry, the Defense Ministry, and the National Security job – also known as the most important jobs in the government.
It also appears that fighting is going on over the jobs that are less important from the standpoint of dealing with the still simmering insurgency. The BBC quotes Iraqi politicians as saying that up to half of the cabinet posts remain undecided. That's a big number. Iraq currently has 37 cabinet-level positions (compare that to 21 in the UK), an attempt at creating more jobs to divide up in the first place.
These arguments are largely about money and the power that flows from it. Controlling the right ministry in the new Iraq creates enormous patronage opportunities and revenue-generating ability. The fight is over how big a piece of the pie Maliki will have to give up in exchange for continued political support.
The Iraqi Constitution says the cabinet must be decided by Saturday -- but that's doesn't make it as iron-clad a deadline as it might seem. The US-written constitution has been repeatedly ignored over the years, particularly surrounding government formation, It's both likely that the full cabinet won't be seated on Saturday, and that it won't matter very much.
---