Iraqi Christians face a somber Christmas
(Read article summary)
Iraqi Christians are canceling services or scaling back celebrations out of concern for safety. Baghdad's Our Lady of Salvation church, which was brutally attacked on Oct. 31, is now surrounded by blast walls.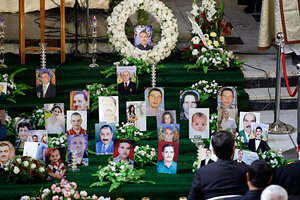 Hadi Mizban/AP
It's not going to feel like much of a Christmas in Iraq this year.
This morning, at Our Lady of Salvation church in Baghdad, the mood was somber. I counted three worshippers. One was a girl, a tiny brunette of no more than 10 years old, who walked to the front of the church clutching her school report card. She knelt at the altar in front of a picture of her cousin, who was inside the church during evening mass on Oct. 31, when terrorists stormed the building and took the worshipers hostage before detonating suicide vests. Dozens were killed, including the girl's cousin.
The attack, and a smattering of others in recent weeks against Iraq's vanishing Christian community, have led to a feeling of siege this Christmas. Human rights groups say that Christians have been targeted with rocket attacks and received threats by mail and text message. On Wednesday, wire services reported that Christians in three Iraqi cities had decided to cancel Christmas observances after receiving threats.
The Chaldean Catholic archbishop in the northern city of Kirkuk told AFP that he and 10 other Christian leaders received warnings from the Islamic State of Iraq - a terrorist group linked to al Qaeda in Iraq, which claimed responsibility for the Baghdad attack - that persuaded him to cancel the traditional Christmas feast. Only masses will be held, and only in the morning, Monsignor Louis Sako said.
---