Festivus becomes worldwide holiday. Break out the Festivus pole! [video]
(Read article summary)
Festivus, the holiday introduced on a "Seinfeld" episode 13 years ago, is being marked around the world today, especially by the twittering classes who turned the made-up celebration into a top Twitter trend.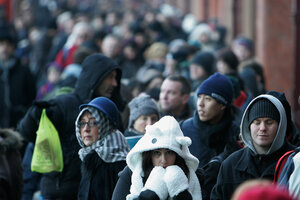 Akira Suemori/AP
In the 13 years since Festivus was introduced on an episode of "Seinfeld," the made-up Dec. 23 "holiday for the rest of us" has moved well beyond the confines of American TV reruns to become globally recognized.
While mostly noted today among Americans, Festivus was also inspiring a number of tweets from around the world and for much of the day was a top 10 most-tweeted phrase among tweeters worldwide.
In England, Alice Rooney experienced not a Christmas miracle, but rather a Festivus miracle amid the snow that has clogged highways and brought airports to a standstill. "Making it from Bristol to London on public transport in the current climate surely qualifies as an early festivus miracle," she tweeted Dec. 20.
Even in Indonesia the fake holiday was noted today, with Haddy Kustaman tweeting: "Festivus Is Here: Time To Air Grievances." And in Australia, Mik Morley tweeted: "Look out world, the countdown to #Festivus has begun, and I has some grievances..."
---