Record cold has South Korea telling citizens: wear long johns
(Read article summary)
Freezing temperatures in South Korea are pushing energy use to record highs and threatening blackouts. The crisis may prompt Koreans to rethink how to stay warm.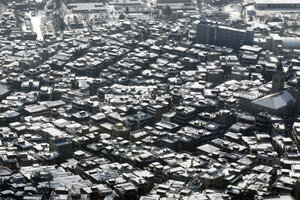 Lee Jin-man/AP Photo
Wear your long johns. That's the message from the South Korean government to citizens this week as record cold weather strains electricity reserves across the country.
The temperature in Seoul hit a decade-low of minus 17.8 degrees C (0 degrees F.) on Sunday, and other parts of Korea are seeing the coldest weather in 96 years. As Koreans turn up their radiators to keep warm, energy usage in the nation has hit record highs. Demand for electricity exceeded 71 gigawatts last week, leaving only 5 percent of the country's reserves available.
In the short term, the situation has forced Koreans to look at everything from long johns to price systems to reduce electricity demands. In the long term, the crisis has Koreans reconsidering how they think about energy use.
"We can't continue to use power at this rate," Knowledge Economy Minister Choi Kyung-hwan, who oversees government policy on energy use, said in a televised press conference earlier this month. "With the ongoing cold weather, there is a possibility that Korea's power demand will hit another record soon, and if conditions worsen, some regions might face a blackout."
The government has sent a simple message to civil servants: bundle up.
Beginning today, government agencies and public enterprises are required to keep their thermostats below 18 degrees C (64 degrees F.), and turn off the heat altogether during peak electricity demand hours. Space heaters have been banned at these offices, and employees have been encouraged to dress more warmly including by wearing thermal underwear.
Mr. Choi is calling on citizens to join the government's efforts to reduce energy consumption. He asked the public to lower their home thermostats and take the stairs instead of elevators.
---