For Albania's disaffected youth, political feud illustrates why they flee
(Read article summary)
Antigovernment demonstrators returned to the street in Albania Friday, a week after three activists were killed outside Prime Minister Sali Berisha's office.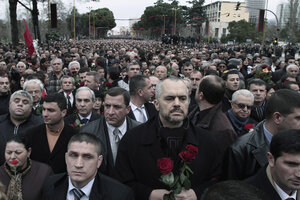 Visar Kryeziu/AP Photo
An ugly side-effect of ongoing feuds in Albania between its two charismatic leaders is the effect on the next generation. Young Albanians are so tired of conflict and corruption at home that nearly anyone with talent heads for the door. Some recent college grads say they don't have any friends not trying to get out – to schools or jobs in Europe and America.
They loathe the often self-destructive behavior playing out in Tirana between Prime Minister Sali Berisha and Socialist Party leader Edi Rama that last week led to three deaths, but feel helpless to change it.
The pyrotechnic name-calling among Albania's political class also bothers the kids who don't hear such levels of invective in European capitals. At least publicly. After the shooting last week Rama described interior minister Lulzim Basha of being "this socially dangerous worm." Berisha for his part said Rama orchestrated a protest of "Bandits, criminals and terrorists."
Despite Albania's progress emerging from nearly cultic isolation under strongman Enver Hoxha, the nation continues to reel from a history of guns, grudges, and corruption so thick one needs wings to fly above it.
Last Friday things went sideways after a Socialist-led protest massed outside Mr. Berisha's Tirana office. Berisha accused Mr. Rama of attempting a coup. Guards shot and killed three protestors and dozens were wounded.
---