Sarkozy angers French judges, chides ministers, disses multiculturalism – and sinks in polls
(Read article summary)
Despite a week of big headlines for French President Nicolas Sarkozy, he's at his lowest approval rating of his presidency.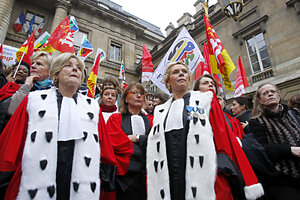 Francois Mori/AP
Under the maxim that any publicity is good publicity, French president Nicolas Sarkozy gets top honors along with heavy headlines. Now if he can only get some love from the French themselves.
Today, Mr. Sarkozy has managed singlehandedly to put French judges on strike – after a typically blunt outburst that a sex offender under investigation for a grisly murder should be "presumed guilty."
Mr. Sarkozy's quick-fried policy this week asking officials to vacation exclusively in France filled Paris papers – after revelations that his foreign minister and prime minister recently took elite junkets in Tunisia and Egypt. And last night in a TV forum, Sarkozy played to a sizable anti-immigrant French right wing on the failure of multiculturalism.
One might say he echoed British Prime Minister David Cameron's declaration of the demise of multiculturalism last week – except Sarkozy spearheaded the rhetoric last summer as France prepared to ban the burqa, the full length veil worn by devout Muslim women.
---