WikiLeaks' Assange's defense says he won't receive fair trial in Sweden
(Read article summary)
As the extradition trial in Britain ended, the defense for WikiLeaks founder Julian Assange argued that the Swedish prime minister's recent comments have 'vilified' Assange in Sweden.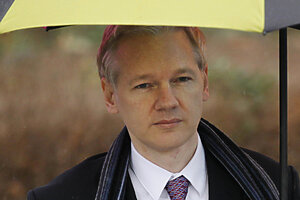 Matt Dunham/AP
The extradition trial of WikiLeaks founder Julian Assange adjourned today in Britain amid claims by Assange's defense that he will be unable to receive a fair trial in Sweden.
Assange's lawyer, Geoffrey Robertson, argues that inflammatory remarks by the Swedish prime minister have made Mr. Assange "public enemy No. 1" in Sweden and that bias against him would preclude him from receiving a fair trial. He requested that the judge refuse to extradite Assange, Reuters reports.
According to The Telegraph, Mr. Robertson also asked for the trial to be adjourned so that he could bring in witnesses from Sweden to testify on the effect of the Swedish prime minister's comments on the public opinion of Assange. That request was denied. According to Robertson, Swedish Prime Minister Frederik Reinfeldt also "accused Mr. Assange of claiming women's rights are worthless" and described his comments as "devastating vilification."
Earlier this week, Prime Minister Reinfeldt lashed out against Assange and his defense for arguing that Sweden's extradition request was politically motivated, the Financial Times reports.
---