New Zealand earthquake magnitude 6.3 hits Christchurch
(Read article summary)
New Zealand earthquake: a major quake hit New Zeland's second largest city Tuesday, local time. Initial reports indicate collapsed buildings and possible casualties from the New Zealand earthquake.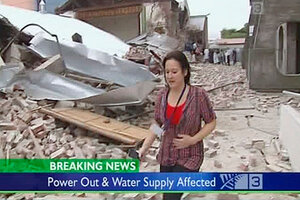 REUTERS/TV3
For the second time in five months, New Zealand's south island city of Christchurch was rocked by a major earthquake on Tuesday afternoon local time.
Initial reports from Reuters news agency indicated that there were no reports of casualties, from the magnitude 6.3 temblor.
But the New Zealand Herald is reporting casualties and major damage to downtown buildings, including the Christchurch Cathedral.
In its live blog, the Herald reports phone lines down, water running through the streets, and several buildings with serious damage.
One blog entry says New Zealand's TV3 is reporting the Pyne Gould financial services building has collapsed. Another, unsubstantiated report claims that the cathedral has collapsed.The New Zealand Press Association reported that the TVNZ building in Christchurch had collapsed. And there's an entry that a facade of a building in downtown Christchurch has collapsed onto a bus, injuring passengers. NZTV is reporting at least one fatality.
Christchurch resident Jane Smith who works in the central city told the Herald a work colleague had just returned from helping rescue efforts after a building facade had collapsed on a bus on Colombo St.
---