A Slovakian town claims Andy Warhol as their own
(Read article summary)
Although famed pop culture artist Andy Warhol was born in the US, his mother's Slovakian hometown is happy to claim him as their own with a museum in his name.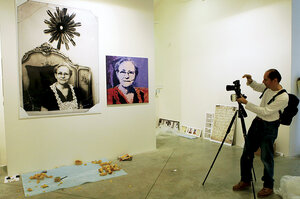 Petr Josek/Reuters
• A local, slice-of-life story from a Monitor correspondent.
"I come from nowhere," Andy Warhol once famously quipped. But to the inhabitants of Medzilaborce in eastern Slovakia, where Warhol's mother was born and from which she emigrated in 1921, Warhol is a hometown boy. Not Andy Warhol, but Andy Warhola, originally written Varchola and a common name in the town registrar.
In 1991, following the fall of communism, Warhol's brother Paul made a trip to what was then Czechoslovakia and founded the Warhol Museum of Modern Art. Since then, there has been a new interest in Warhol's family roots and their influence on his art.
"Everyone in the West knows Andy Warhol Superstar," says Warhol Museum director Michael Bycko. "But do they know the other side of Andy?" Mr. Bycko, contests that Warhol never placed much stock in his family's rural roots and heritage. (Andy Warhol was born in 1928 in Pittsburgh.)
---