Egypt freezes Mubarak assets, forbids travel
(Read article summary)
Egypt today ordered a freeze on all assets belonging to former President Hosni Mubarak and his family, weeks after asking that foreign assets also be frozen.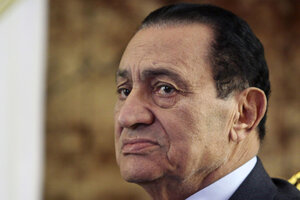 Amr Nabil/File/AP Photo
Egypt's public prosecutor today requested a freeze on the assets of former President Hosni Mubarak, his wife, two sons, and their wives. The freeze is a response to suspicions that Mr. Mubarak accrued substantial wealth while president, potentially diverted from the Egyptian government, that he is now storing at home and abroad.
Mr. Mubarak and his family are also banned from leaving the country. Since stepping down Feb. 11, he has been quietly hiding out in the Red Sea resort town of Sharm el-Sheikh, where he reportedly owns real estate – in addition to properties in London, New York, and Los Angeles.
"The prosecutor ordered that all of all of the family's money transfers, real estate, stocks and bonds in companies and banks be sequestered," Bloomberg reported, citing a statement issued today by the public prosecutor. The state-owned Al-Ahram newspaper has reported that the Mubarak family stashed hundreds of millions of dollars in Egyptian banks, despite Mubarak's monthly salary of about $800.
---