Locked in a 3D war, LG and Samsung battle to be king of flat-screen technology
(Read article summary)
South Korean companies LG and Samsung are the No. 1 and No. 2 flat-screen TV makers worldwide. Their bitter rivalry highlights the stakes in the growing technology industry.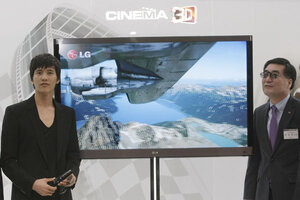 Ahn oung-joon/AP
The world's No. 1 and No. 2 flat-screen TV makers share prestige as lynchpins of the South Korean economy. But an increasingly bitter rivalry between Samsung Electronics and the LG Group has descended into mud-slinging amid a bragging contest over which company has the best 3D technology.
Their war of words took a nasty turn this week – playing out in the national press as officials traded barbs that some saw as childish.
Yet with analysts projecting explosive growth in the emerging 3D TV market over the next few years, both companies see this as a crucial battlefield, and the current dispute could be indicative for the future. The shadows of Japanese giants Sony and Panasonic, too, loom large in the 3D marketplace.
Think you know Asia? Take our geography quiz.
On Tuesday, a "high-ranking" Samsung official reportedly called LG engineers "stupid," saying claims over the merits of their technology were "unacceptable." In response, LG said Samsung had shown it was "losing it" by opting to volley abusive remarks at a competitor.
And Thursday, LG staged a press conference to announce it was in talks with Sony about providing its 3D TV panels to the Japanese maker – seen as a way for LG to court allies in the growing 3D war.
At the root of the fighting is a desire to determine who possesses the best technology to enhance the viewing experience of the nascent 3D TV sets. LG says its film patterned retarder (FPR) technology is an advance on the industry standard shutter glass technology, both of which require glasses. LG says FPR eliminates blurry images, and that its glasses are lighter than previous issues. Samsung says FPR is outdated.
---