In Europe, plenty of talk about a no-fly zone in Libya but little consensus
(Read article summary)
As Muammar Qaddafi's forces make significant gains against rebel groups, Europe continues to ponder the 'consequences' of imposing a no-fly zone over Libyan air space.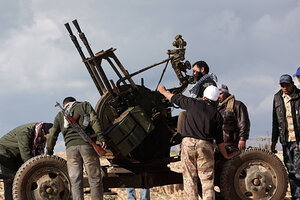 Nasser Nasser/AP
No-fly zone or no no-fly zone. That was the big question in Europe today as Britain's David Cameron and France's Nicolas Sarkozy pushed in Brussels for limited military action to ground Libya's Air Force.
Yet a no-fly zone to prevent Muammar Qaddafi's forces from staging air strikes against beleaguered rebels did not take wing among European leaders. Several cited "collateral damage" or civilian deaths as too great a possibility.
As Libya's uprising reaches its third week and Mr. Qaddafi's position is strengthened, a no-fly zone, or something like it, is a growing dilemma for the West.
Speaking on a BBC panel taped Friday, Oxford scholar Khaled Hroub is dubious about a no-fly zone over Libyan airspace. But talk to Mr. Hroub away from the microphones and he says a no-fly zone may be possible if carried out intelligently.
---