Second explosion at nuclear power plant in Japan
(Read article summary)
Monday's blast destroyed the containment building but the reactor is still intact. Japanese officials also said cooling systems have failed at a third reactor.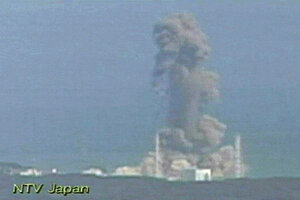 NTV/NNN Japan/AP
A new explosion hit Japan's Fukushima I Nuclear Power Station on Monday, two days after an explosion at a different reactor housing unit at the power plant. Japanese officials said cooling systems have also failed at a third reactor as a result of Friday's earthquake and tsunami that knocked out electricity to much of the region.
Plant operator Tokyo Electric Power Co. said 11 people were injured in the blast, which authorities said was probably a hydrogen explosion causing the roof and walls of the building to blow away, reported Japan Today.
Today's explosion has increased concern about a possible release of radiation, such as the fallout from Chernobyl that devastated Ukraine in 1986. However, a number of American and European scientists, as well as Japan's nuclear safety agency, have downplayed that risk.
Despite Saturday's explosion at reactor No. 1 and Monday's blast at reactor No. 3, Japan's nuclear safety agency has said there is "absolutely no possibility of a Chernobyl"-style accident at the Fukushima I plant, according to the national strategy minister, reports The Daily Telegraph. While the explosions blew the roof off each of the reactor containment buildings, officials said the reactors themselves remained intact.
---