Japan, Europe markets rebound Wednesday
(Read article summary)
The Nikkei rose nearly 6 percent on Wednesday after two days of sharp drops, but today's gains could be short-lived if the Japan nuclear crisis worsens.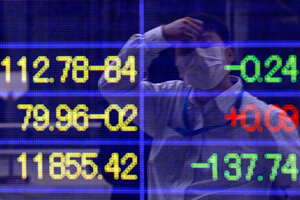 Issei Kato/Reuters
After two days of severe market losses, Japanese stock index Nikkei jumped 5.7 percent Wednesday as automakers there restarted production plants and related shares jumped.
But the Nikkei is still down overall since the March 11 earthquake rattled this and other indexes worldwide.
Today's rebound was preceded by rapid sell-offs and an almost 20 percent drop over Monday and Tuesday. Tuesday alone saw an 11 percent decline in the Nikkei, that market's largest drop in a single day since October 2008 when Lehman Brothers collapsed.
Tokyo Electric Power Co., owner of the Fukushima I nuclear plant now battling to avoid a meltdown, plunged 25 percent Monday, 24 percent Tuesday, and another 25 percent Wednesday. (A quarter-drop in value is the maximum allowed by the Nikkei.)
According to Canada's Globe and Mail, there's a general belief now that stocks may have been sold off too quickly after the disaster, which helped fuel today's rebound.
---