Libya's opposition says it would consider ceasefire: April 1 Mideast update
(Read article summary)
The opposition would maintain its insistence on Qaddafi's removal from power. Friday protests are sweeping through Syria, while Egyptians are demonstrating against a new law criminalizing protests.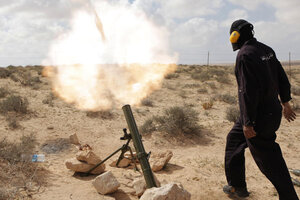 Nasser Nasser/AP
Check back weekday mornings for a quick tally of the latest developments in the Middle East and North Africa.
Syria
Another day of protests kicked off in Syria after Friday prayers, despite more than 100 deaths so far from the government crackdown on demonstrations. Protesters seem unconvinced that government officials are serious about reform, despite hints of change.
Libya
Libya's opposition government said that it would accept a cease-fire with Qaddafi's forces if Qaddafi pulls his troops out of all Libyan cities and allows Libyans to demonstrate peacefully. However, the end goal remains Qaddafi's removal from power, said Mustafa Abdul-Jalil, head of the interim government.
Unnamed sources reported that a Libyan government aide met with British officials while in Britain visiting family. He was told Qaddafi must step down, the Associated Press reported.
---