Qaddafi and rebels look for friends: April 4 Mideast update
(Read article summary)
Muammar Qaddafi's forces appear locked in a stalemate with the rebel troops, just east of Brega. Violent clashes within Yemen's protests reached a milestone. And the Gulf's economic bloc is in a tussle with Iran.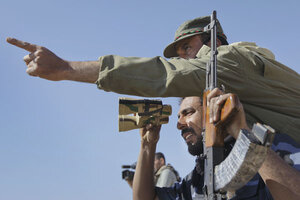 Ben Curtis/AP
Check back weekday mornings for a quick tally of the latest developments in the Middle East and North Africa.
Libya
The weekend was a busy one on the diplomatic front for both sides in the Libyan conflict. The government's Deputy Foreign Minister Abdelati Laabidi (the elected foreign minister Moussa Koussa defected last week) traveled to Greece this weekend to meet with the Greek prime minister as an envoy for Qaddafi's government. His trip sparked speculation that he too was defecting, but representatives insist he is not.
Mr. Obeidi (whose name is also spelled Abdel Ati al Obeidi) is today headed to Turkey, which aims to lead efforts to broker a cease-fire.
Meanwhile, Italy became the third country (after France and Qatar) to recognize the opposition's interim government as the legitimate representative of the Libyan people. The Italian foreign minister said the only acceptable result of the conflict is Muammar Qaddafi's departure.
---