Amid Arab turmoil, Morocco charts quiet path to reform
(Read article summary)
Morocco's King Mohammed VI says Moroccans will vote on proposed constitutional changes in a national referendum. The country's reform movement wants to lessen the monarchy's power.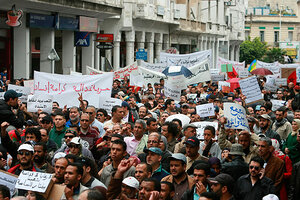 Macao/Reuters
As crises in Libya, Yemen, and Bahrain grab world headlines, Morocco is quietly undergoing what its prime minister has called "a peaceful revolution."
Leaders around the region should take note.
After a wave of largely nonviolent protests swept the country in February, Morocco's monarch, King Mohammed VI, made a rare appearance on state television to announce that he was ready to give up considerable powers, including the right to appoint the country's prime minister and dissolve its parliament.
RELATED: How Syria and other countries use emergency rule to quash dissent
Since then, the king has established a panel to propose changes to the country's constitution and he's even invited the leaders of the Feb. 20th Movement – the youth-led group named after the seminal day of protests – to join the process.
"Our goal is a new constitution that serves the people, not the elite," Montasser Drissi, one of the youth leaders, told The New York Times last month.
Another young protester called for "an end to the hegemony of the palace flunkies," according to The Irish Times. "We want a democratically elected government with real power," he added.
Morocco has had a monarchy since long before the country gained independence from France in 1956. Today, the royal family costs Moroccan taxpayers $140 million a year – that's more than twice the cost of the British monarchy.
---