Gates to meet with Saudi king to discuss Yemen, Iran: April 6 Mideast update
(Read article summary)
Secretary Gates and King Abdullah share concerns about Al Qaeda in Yemen and Iranian influence in the region. Meanwhile, Libya's rebels demand more of NATO, and Syria's unrest simmers.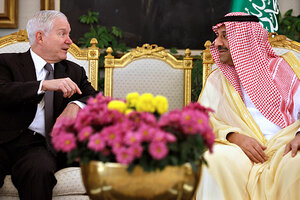 Chip Somodevilla/AP
Check back weekday mornings for a quick tally of the latest developments in the Middle East and North Africa.
Libya
As Libya's rebels were pushed out of Brega – their biggest territorial loss in a week – some began turning against NATO, claiming NATO was abandoning its military obligation to pursue diplomatic means of resolving the conflict. The rebels also accused NATO of not doing enough in Misratah, the sole western city under opposition control and the target of some of the heaviest fire from Qaddafi's forces.
NATO has replied that it is doing what it can, while still avoiding civilian deaths. Col. Muammar Qaddafi's troops have taken to locating their weaponry among civilians, making it impossible for NATO to sometimes strike. NATO officials have also vowed to make protection of those in Misratah a priority.
Yemen
---