Japan's Emperor Akihito and Empress Michiko make first trip to disaster zone
(Read article summary)
Emperor Akihito and Empress Michiko visited two evacuation shelters Thursday in Asahi city, about 54 miles east of Tokyo near the Pacific coast.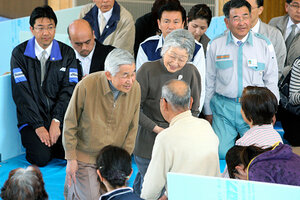 Kyodo News/AP
Japan's Emperor Akihito and Empress Michiko have held off on visiting the country's tsunami- and earthquake-affected disaster sites to avoid interfering with rescue efforts – until now.
Today, the royal couple offered condolences and words of support to survivors at two shelters in Asahi city, where 13 people were killed and thousands of homes were damaged some 50 miles from Tokyo. Photos show Akihito and Michiko kneeling on mats and blankets, talking with evacuees as other evacuees snap pictures on their cellphone cameras in the background.
Akihito gave a rare TV address on March 16, to soothe concerns around the country.
The emperor said in his address that the country had never seen anything like the current disaster, and that he was "deeply worried." He added that he was praying for the country and encouraged survivors, many of whom were awaiting news on the status of their loved ones, not to abandon hope. The royal couple met with evacuees at a shelter in Tokyo on March 30, and then again at a shelter in Kazo City near Tokyo on April 11.
---